COMBIREX™ DX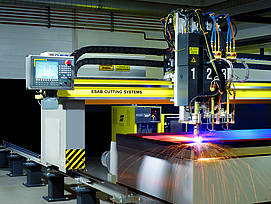 Our new gantry cutting machine offers you maximum flexibility: plasma and oxy-fuel cutting in combination or separately - both options are possible. Its unique features include an intelligent gas metering unit and a positioning aid, which allow you to work with utmost precision and ease. You can start cutting more quickly and simply and achieve optimal results.
The COMBIREX™ DX sets completely new standards in flexibility and precision: it adapts to your individual requirements and can be used as a plasma, oxy-fuel or combined plasma/oxy-fuel cutting machine. Up to four torches can work simultaneously in pure oxy-fuel operation, while the combined mode allows one plasma torch plus three oxy-fuel torches.
The intelligent gas metering unit is based on proportional technology and controls gas flow for hole piercing and cutting in relation to the cut product, regardless of the material thickness and number of torches. Therefore, little effort is required to achieve extremely precise cutting results, because the technology data base automatically takes control.
The built-in positioning aid with cross-hair helps you to align the material precisely and position the torch so you can start cutting more quickly. In addition, it gives a quick visual check of whether the plate size matches the set program.
Description:
With the COMBIREX™ DX, we offer you a gantry cutting machine that is uniquely flexible: it can be used as a plasma, oxy-fuel or combined plasma/oxy-fuel cutting machine.
In oxy-fuel mode, the COMBIREX™ DX cuts material thicknesses up to 200 mm. The maximum cutting width using one torch is 3,500 mm.
With the COMBIREX™ DX, you can benefit from the outstanding possibilities of plasma cutting: with just one torch you can exploit the full rage of plasma cutting performance. Choose your power source according to your needs and upgrade it later. Depending on the power source, high-precision, perfect cuts can be made at material thicknesses of 60 mm in construction steel.