COOLJET™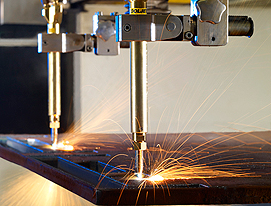 Innovative, fully integrated oxygen cooling guarantees operational safety, highest cutting quality and faster cutting speed.
The COOLJET™ greatly reduces the heat generated on the cutting nozzle while preheating to ignition temperature. The innovative valve body ensures efficient heat dissipation and a substantially improved cutting gas mixture.
Description:
The unique cooling of the cutting nozzle makes flame cutting particularly economical for you: as well as higher cutting speeds, the COOLJET™ makes for lower maintenance costs, a longer lifetime and greater operational safety.
The COOLJET™ is suitable for use on all ESAB flame-cutting machines, even in
combination with high-performance nozzles.
Wide range of applications:
The COOLJET™ cuts material thicknesses from 3 to 300 mm mild steel.
Your benefits:
low maintenance
higher cutting speed
longer cutting torch lifetime and greater nozzle durability
great operational safety due to backfire protection
stable flame due to constant flow