CROSSBOW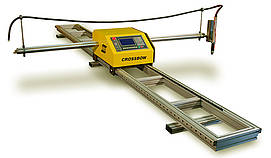 Portable, Economical CNC Cutting Machine
The CROSSBOW CNC cutting system offers high value at affordable cost in a portable, efficient design. Compact and lightweight, it is easily transported. A motorized lifter makes it quick and simple to adjust cutting height when oxy-fuel cutting, while Arc Voltage Height Control fully automates the plasma cutting process. The built-in CNC uses simple, menu-driven prompts yet delivers powerful nesting and cutting capabilities. An optional heavy-duty cutting table is available for fixed installations.
The CROSSBOW is ideal for trade schools, small fab shops, maintenance and repair shops, or for portable use within large facilities or at construction sites.
Description:
The CROSSBOW can be equipped with an oxy-fuel cutting torch for cutting mild steel from 6 mm (1/4 in.) up to 80 mm (3 in.) thick, or a plasma cutting torch for up to 100 Amp cutting, which will handle mild steel or aluminum up to 20 mm (3/4 in.) thick, or stainless steel up to 15 mm (5/8 in.) thick. The machine can also be used with both plasma and oxy-fuel, and the two torches easily swapped as needed.
The machine comes standard with a motorized torch lifter and 35 mm (1-3/8 in.) torch holder, which easily accommodate most oxy-fuel or plasma torches. The motorized lifter provides Arc Voltage Height Control capability, including an Ohmic sensor initial height system for fully automated plasma cutting. It also includes a solenoid valve for automatic control of cutting oxygen when using an oxy-fuel cutting torch. These features are standard with every machine, so adding either plasma or oxy-fuel in the future is never a problem.