DATA LEAP™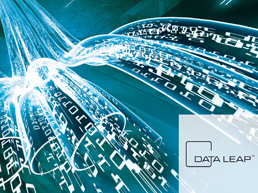 Our DATA LEAP™ software is the new generation of production data management. It gives you an overview of all production flows, an insight into all manufacturing processes and specific indications of untapped potential for optimisation in your production.
DATA LEAP™ features intelligent interfaces that interlink all of the production data in your business, across all departments. Operating, machine and quality management data are collected and interlinked. This brings complete transparency to your production flows including order processing, process times and absence periods, so you can see immediately where optimisation is possibe or even necessary.
Every business is different, which is why DATA LEAP™ is composed of clearly defined modules that can be individually combined. There is also a selection of three preconfigured module packages: from a convenient introduction to data management to the professional deployment of all available resources for maximum efficiency.
Features:
DATA LEAP™ helps you to manage your cross-linked production data more efficiently and analyse it more easily. Work more economically with a transparent view of your production.
Selection Assistant:
ESAB CUTTING SYSTEMS helps you select the appropriate product from the DATA LEAP™ edition.
Download Center:
Clearly sorted by theme, you will always find up-to-date information material here for downloading.