E-VENT™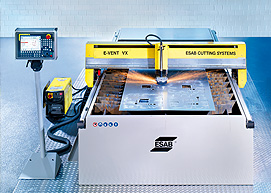 Our E-VENT™ is a turnkey plasma cutting machine including power source, plasma torch, control and software, which is ready for immediate use and can be rapidly integrated into the running production process. It was developed especially for automated manufacturing processes in the heating, ventilation, air conditioning and insulation sector.
The E-VENT™ has a variety of innovations in store for you: the laser sensors for initial height detection for hole piercing and the integrated measurement of distance between the torch and material during the cutting process make for optimal cutting precision.
Another ground-breaking innovation is the individually configurable cutting grid in longitudinal and transverse directions. The interchangeable grid means that the machine can also be used with a coil system.
The innovative, technically optimised suction system on the E-VENT™ always delivers its full power in the table section that is currently beneath the torch. The suction valves are opened and closed in parallel to the cutting position, saving you energy and 50 % suction volume.
Description:
The flexible, modular configuration and compact design forms a machine that meets customer production requirements but minimizes space usage. The E-VENTT has a cutting speed of maximum 30 m/min, and can cut galvanized, construction steel, stainless steels and aluminium with a cutting width up to 1500 mm, a cutting length up to 3000 mm (optional 6000 mm) and up to 20 mm material thickness (depending on the plasma power source output*). The high cutting speed is achieved by the twin rack and pinion longitudinal AC drive system. The combination of precise AC drives, rigid beam and low gantry guarantees exact positioning and smooth movement.
The ESAB plasma torch produces a smooth, virtual dross-free cut with its sophisticated technology. The exact cutting height to produce optimum quality cuts is delivered by a gravity-assisted plate riding roller system. The height control is based on the gravity principle, guiding the cutting jet at precisely the right distance throughout the entire cutting process and thus compensating for inaccuracies in the material.
Two models available:
E-VENT™ DX with ESP-101 Plasmarc™ plasma power source
E-VENT™ VX with PowerCut™ 1300 plasma power source