MULTIJET™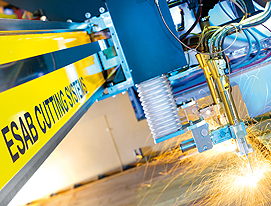 Patented torch with automatic internal ignition, recommended for all automated production processes.
The MULTIJET™ revolutionises automated flame cutting, which is why ESAB CUTTING SYSTEMS has obtained a patent for this torch.
Description:
The robust design and the low-maintenance internal ignition, which allows a lean design and protects against impurities, make for great reliability. Multi-torch operation allows far smaller separating distances for higher productivity. In addition, the MULTIJET™ is eminently suitable for use on cutting and heating robots.
Wide range of applications:
The MULTIJET™ cuts material thicknesses from 3 to 300 mm mild steel.
Your benefits:
basis for automated cut and flame monitoring
highly suitable for automated processes since no monitoring is required
greater reliability thanks to internal ignition
reduced distances possible in multi-torch operation
dirt-resistant and extremely low maintenance