SGX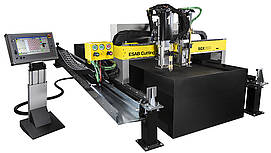 Compact, Rugged, Easy To Use CNC Plasma and Oxy-Fuel Cutting Machine
ESAB pioneered the concept of the compact, multi-process CNC cutting system. Now, ESAB's experience and industry-leading technology are combined in the SGX. This compact, rugged, easy-to-use cutting machine delivers high quality cutting results in a system that is unexpectedly affordable.
Description:
The compact design of the SGX cutting machine closely matches machine size to plate size to minimize floor space requirements. One-meter rail increments keep the footprint small to maximize production space. Cutting widths from cover from 1.5 to 2.5 m, and cutting lengths are available from 2.5 to 14 m.
The rugged SGX is designed for performance, precision and reliability. Its heavy steel beam, precision machined mating surfaces, and linear rail ensure smooth motion, consistent accuracy, and longevity.
The SGX operator interface is designed for simplicity and ease of operation, powered by ESAB's touch-screen based Vision® T5 CNC. Simple, automated operation is achieved with the built in process database which fully integrates plasma and oxy-fuel setup into an easy-to-use touch-screen interface. An Operating Wizard guides user from machine startup through cutting a nest, reduces training time. The Built-in EasyNestT automatic, true-shape nesting system yields higher plate utilization with fast, easy programming at the machine.