SUPRAREX™ HD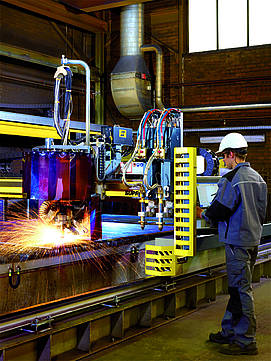 The SUPRAREX™ HD is a powerful and extremely durable gantry cutting machine with impressive positioning speed. Thus the SUPRAREX™ HD provides a solid basis for a variety of cutting and marking tasks as its innovative modular system adapts to your individual requirements. It can be equipped with tools for cutting, weld edge preparation and marking. It works with plasma, oxy-fuel or both processes in combination.
Featuring a VISION™ control from ESAB and COLUMBUS™ III software as standard, the SUPRAREX™ HD is perfectly equipped for automated production processes. It delivers innovative technology, entirely from one source. All the components are perfectly coordinated, work smoothly together and meet ESAB's globally recognized quality standard. What this means for you in practice is that the SUPRAREX™ HD has extremely low maintenance requirements and a very long service life.
Description:
Pure dynamism, power right down the line. The new SUPRAREX™ HD convinces users with impressive acceleration and deceleration values, which help you to achieve even more productivity and precision. As a high-performance, heavy-duty portal machine, the SUPRAREX™ HD thus forms the solid foundation for economical cutting and marking with plasma and oxy-fuel. What's more, with a VISION™ control system and COLUMBUS™ III programming software from ESAB it is optimally equipped for the integrated, automated production process.
Every detail of the SUPRAREX™ HD satisfies even the most stringent quality requirements, whilst the extremely low maintenance costs and long lifetime make for a surprisingly favourable cost-benefit analysis.
With the SUPRAREX™ HD, the options for combining the diverse range of system modules are almost limitless. From the cutting table and the power supply all the way to the peripheral environmental technology: everything comes from ESAB, everything works together optimally, everything satisfies the internationally recognised high quality level of the ESAB product range.
The SUPRAREX™ HD is ready to receive a multitude of different tools for cutting, weld seam preparation and marking with advanced plasma or tried and tested oxy-fuel cutting technology. Even combinations of these processes or plasma cutting and marking without changing tools are no problem for the SUPRAREX™ HD.