SUPRAREX™ SXE BIG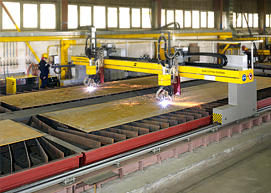 As an enhancement to our SUPRAREX™ family, SUPRAREX™ SXE BIG offers you all the advantages of our all-rounder and is also an ideal way to substantially boost your productivity.
With two transverse motor carriages (Y1 and Y2), the SUPRAREX™ SXE BIG allows you to process two workpieces simultaneously in just one step.
Description:
Where truly great performance is concerned, the ESAB SUPRAREX™ SXE BIG gantry cutting machine plays a leading role. As a consistent enhancement of the SUPRAREX™ family, it combines globally proven technology and innovative ideas to form a machine concept that opens up completely new possibilities for you.
Cut the largest formats and more parts in less time, make use of the automated weld seam preparation technology and benefit from the advantages of intelligent, automated production.
Cutting weld edges automatically or preparing weld seams mechanically is also no problem for the SUPRAREX™ SXE BIG in the oxy-fuel process. With the perpetually rotating VBA*-IR* three-torch unit for the oxy-fuel process, you can produce individual or combined I, V, Y, X and K seams quickly and easily, even on moulded parts. You can choose between the version with manual angle adjustment and a model with controlled CNC lateral angle adjustment even while cutting.
Automatic height control adjusts the VBA*-IR* three-torch unit to any surface irregularities and ensures the greatest precision in tracking and seams. The high degree of automation throughout the process makes it possible to produce even complicated curved or internal sections first time.
With two motors running in transverse direction (Y1 and Y2), the SUPRAREX™ SXE BIG enables you to process two workpieces at the same time in just one production step. The machine automatically, quickly and precisely handles both congruent and mirrored cuts using oxy-fuel or plasma torches. When it comes to marking and labelling, too, you can literally double your results and multiply your efficiency with the SUPRAREX™ SXE BIG.
Other possible processes and combinations:
Combined plasma and oxyfuel cutting
Weld seam preparation with plasma
Weld seam preparation with oxy-fuel
Grid cutting
Marking and labelling