Standard Industrial offers a complete line of 100% U. S. made Four Column, C-Frame and Straight Side presses for traditional and non-traditional production facilities. The management/owner team of Standard Industrial has been manufacturing hydraulic press brakes, presses and shears since 1967 and has thousands of machines in service all over the world.
Unmatched rigidity and dependability
5 year parts and limited labor warranty
A lifetime of readily available components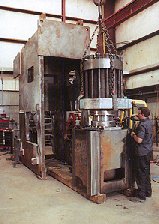 Standard Industrial is one of the last true U. S. machine manufacturers and we feel it is our honor and privilege to provide all of our customers with a quality built, dependable, precision machine that will make you proud to say that you "Bought American". We stand behind our machines with the best 5-year warranty available on the market today. Our unmatched 5 Year warranty covers all hydraulic and electric components, plus all bearings and assemblies and the structural integrity of the press for 5 years. This warranty is a firm testament to the dependability of all Standard Industrial equipment.

Coupled with the warranty is a machine of unmatched rigidity. The typical Standard Industrial machine dominates a press room floor with its sheer size and obvious strength. We welcome comparisons by any other manufacturer and are happy to put all of our claims in writing and back them up with over thirty years of customer references.
Even beyond our substantial warranty, all components on the press will be available to you locally for a lifetime supply of parts. Standard Industrial goes to great lengths to engineer all machines with "non-special" components. This means that in 20 to 30 years or longer you can simply refer to your owners manual or the component itself, find that components original manufacturers part number, call your local supplier and get the part you need. Unlike most press manufacturers who force their customers to buy special made, overpriced components only from them, we give our customers a choice to buy locally or from us here at the factory. This means you are back in business in hours instead of days or weeks as is the case with most imported and even some domestic manufacturers. There is no such thing as an "orphan" Standard Industrial machine because you will always be able to find parts anywhere in the USA and the world.

This literature is an excellent tool to show how four different style of presses can best match your requirements. Each type of press is individually suited for certain applications and die set-up and should be adhered to. Please also feel free to contact us here at the factory and talk directly to the people who manufacture these machines. We would also like to invite you here to our facility in Clarksdale, MS so we can show you first hand how our machines are made.

| | |
| --- | --- |
| Model AM300-10 Straight Side Press | |